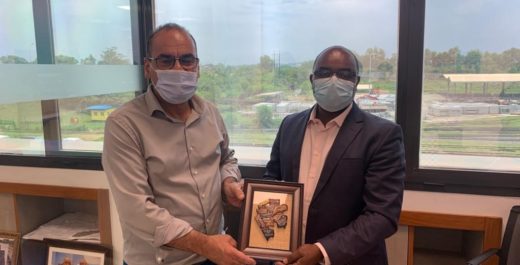 Driss BOUKAA, expert and trainer in railway operations at IFF, received and congratulated by Christian MAGNI, General Manager of SETRAG.
This ceremony was intended to thank Driss for the training of "driving" supervisors in the field of signalling and safety installations. This training, dispensed during 2 weeks in Libreville, enabled the trainees to understand the mechanisms governing railway operations, from the point of view of signal boxes (procedures and operation of installations) .
Christian Magni took this opportunity to thank the entire IFF team, and pointed out that the partnership with IFF had made it possible to significantly improve the level of safety at SETRAG.
Once again, congratulations to Mr. BOUKAA for his usual commitment and to the whole IFF team who prepared this mission.